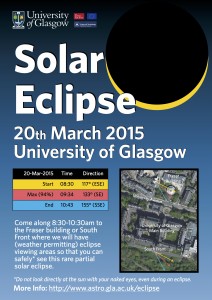 Update: The weather forecast for Friday morning in Glasgow is currently cloudy/variable but we will be out in force hoping for gaps in the clouds.
We also have a live feed of the eclipse from the University of Glasgow Observatory.

A rare partial solar eclipse will be viewable in Glasgow on Friday March 20th, with the maximum eclipse (the moon covering 94% of the Sun) occurring at 09:34am.
We at the University of Glasgow will be hosting (weather permitting) eclipse viewing areas where anyone can come along to safely* see the eclipse through our telescopes and viewers, with experts on hand to explain what is happening. These will be located at the Flag pole/South Front of the main University building and near the entrance to the Fraser building and Library between the times of the eclipse (08:30am to 10:43am), see the poster/map.
For more information please contact Iain Hannah.
*Do not look directly at the Sun with you naked eyes or through an unfiltered telescope/binoculars even during the eclipse. Only use specially designed filters/glasses (not sunglasses) or a pinhole or projection method to observe the eclipse. More information to safely view an eclipse is available here, this guide from the Royal Astronomical Society [pdf], or from the BBC's Stargazing Live [pdf].