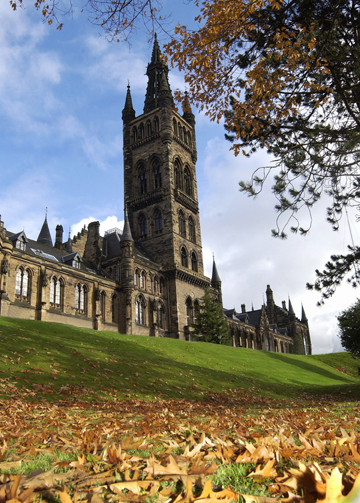 Welcome to the webpages of the STFC Introductory Summer School in Astronomy 2011, at the University of Glasgow
The School is aimed at STFC-funded postgraduate students who are beginning PhD studies in astronomy and space science in autumn 2011. Our programme of lectures will introduce a comprehensive range of astrophysics topics, closely aligned to STFC strategic areas and to current and future major facilities, from Solar System physics to cosmology and covering theory, computation and observations across the electromagnetic spectrum and with new `multimessenger' windows.
The School will be held from Monday 29th August - Friday 2nd September 2011. There will be a welcome reception on the evening of Sunday 28th August and the School will also feature a lively social programme.
Lectures will take place in the Kelvin Building, home of the School of Physics and Astronomy at the University Glasgow. Our Astronomy and Astrophysics Group and Institute of Gravitational Research together comprise one of the largest centres for astronomical research in the UK, with 13 academic staff and more than 50 research fellows, research associates and postgraduate students.
The Summer School has now ended. We hope that you all enjoyed it!
Multimedia material from the School lectures can be downloaded here. (More material will be added as soon as it becomes available).
For STFC-funded students, an example travel claim form (indicating which sections to complete) can be downloaded here.